College Basketball Coach Frederick Snowden 3/4″ U-matic Videotape Archives Preserved to Digital
AV recently converted a collection of U-matic college basketball videotapes to HD mp4 Files. These tapes are a compilation of University of Arizona basketball coach Frederick Snowden – the first black head coach at a major college in the United States. Frederick Snowden held his position as the head coach from 1972 to 1982. He made significant strides with the team, including leading them to the post-season three times and helping five players reach the NBA. The 3/4″ U-matic tapes contain footage from various games Snowden coached, some of his inspirational locker room speeches, the conception of his game plans, and sit down interviews. AV was thrilled to help convert tapes that marked a historic time in American sports. Now, these moments are preserved in a High Definition mp4 format so that they can be easily edited and shared for future projects.
What exactly is a 3/4″ U-matic Tape?
U-matic: The 3/4″ U-matic tape made its debut in 1971 and became the professional standard for broadcast industry edit masters throughout the 1970's. These were the first tapes to make the transition from an open reel format to a cassette format.
Our Digitization Process: 3/4″ U-matic Videotapes to High Definition mp4 Digital Files
1) Professional Equipment, Capture, and Stabilization
To digitize the footage, we use our professional grade U-matic decks and high quality cables to capture the content directly into our editing software. We also conduct routine maintenance on our equipment and clean the heads of the decks to ensure the audio and images are clear with as little interference as possible.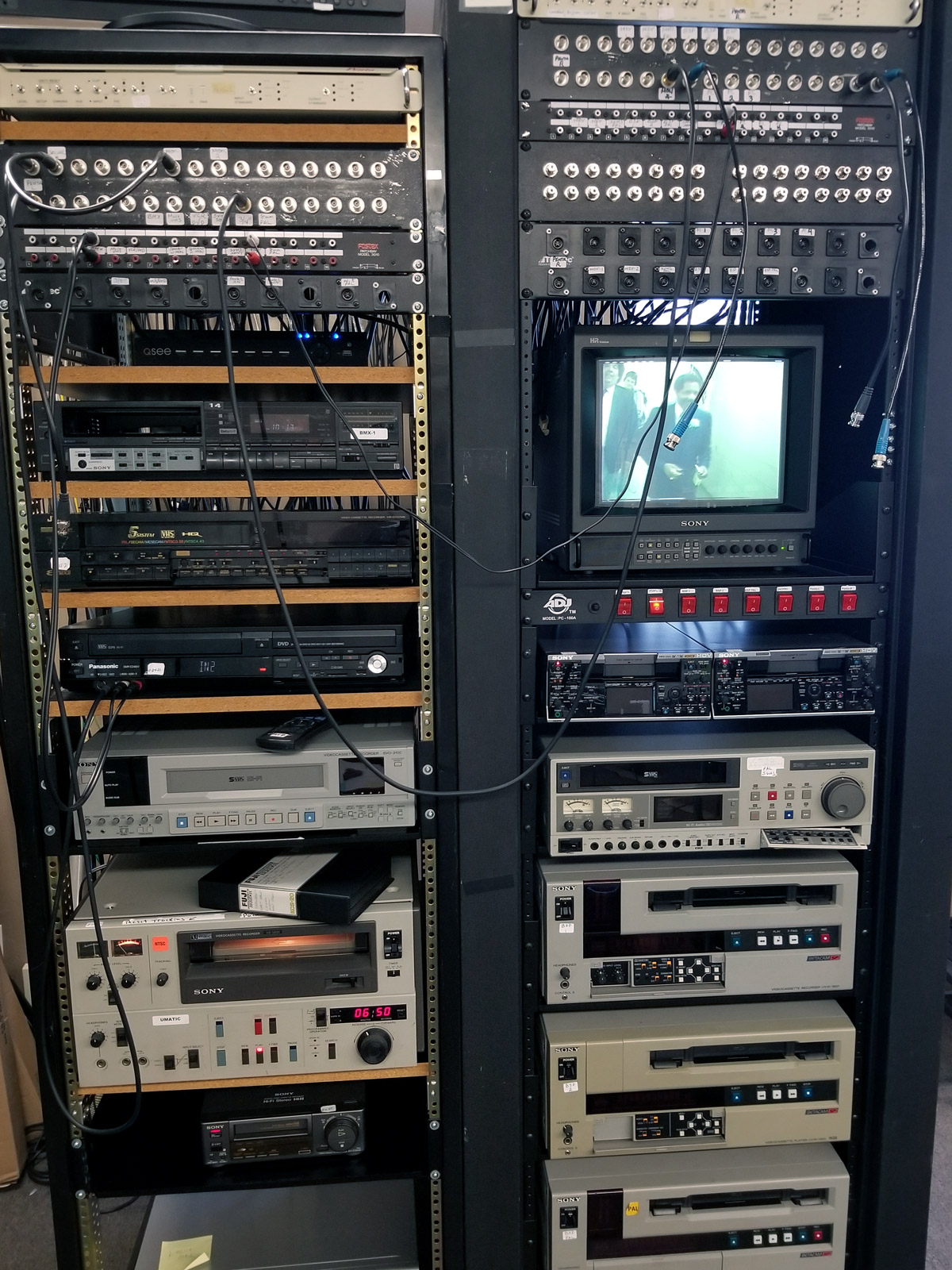 2) Audio Optimization
For optimal audio results, AV captures both the right and left audio channels. We also raise the gain to about -6db. To finalize, we also apply subtle noise reduction (optional) to help eliminate excess static and crackling noise.
3) Final Edits
After capturing both video and audio, we look through each newly digitized file and remove extra dead air at the beginning and end of each video. This process ensures that your digital files will only include the recorded portion of the tapes.
4) Output and HD Upres 720 60p
We export the files using the H.264 Codec (max bitrate of 20mb/s). Now, the HD mp4 Files can be played, uploaded, and edited easily and just about anywhere (Windows, Mac, Smart TV, Youtube, Facebook, etc…). HD mp4 Files are compatible with most editing software including Adobe Premiere Pro, Final Cut, Sony Vegas, etc…
As a result, these videos of Coach Snowden are preserved forever and can be used for future projects!
---
Let AV convert your old movies today!
Videotapes wont last forever and will start to degrade over time so its good to know some of the most common signs that your tapes are breaking down. If you hear a high pitched screeching sound when trying to play your tapes, it's possible they have sticky-shed syndrome. Sticky-shed syndrome happens when the binders on the magnetic tape start to break down. Once these binders begin to degrade, the tape sticks to itself which prevents playback. These binders may also begin to break down when they absorb moisture. This is especially common when tapes have been stored in a humid environment.
Don't risk losing your home movies forever! Let AV Conversion Services transfer and preserve your memories today.
---
Do you have Videotapes you would like Converted to Digital Files?
Check out our Video Transfer pages for options and pricing.
AV Conversion Services
650-369-4366
mail@av-workshop.com
703 Woodside Road, #8
Redwood City, CA 94061