General Tips:
Please print neatly and avoid cursive
Use a permanent marker to write on plastic bags
Label a #1 on the back of the slide or photo that you would like to start the order with
Divide your slides, photos, and negatives up into envelopes or ziplock bags. You can use index cards or sticky notes before each new section in a box
Rubber band your slides into stacks of about 50. Do not band them too tightly as this may bend or warp them
Slide Scanning
Start by organizing your slides in the specific order you would like them and then rubber band them into stacks of around 50. Please specify which stack is first by either writing a "1" on the first slide's cardboard sleeve or on a sticky note attached to the first slide of the stack. Continue by writing a "2" on first slide of the second stack. Repeat this process until all your stacks are labeled in order.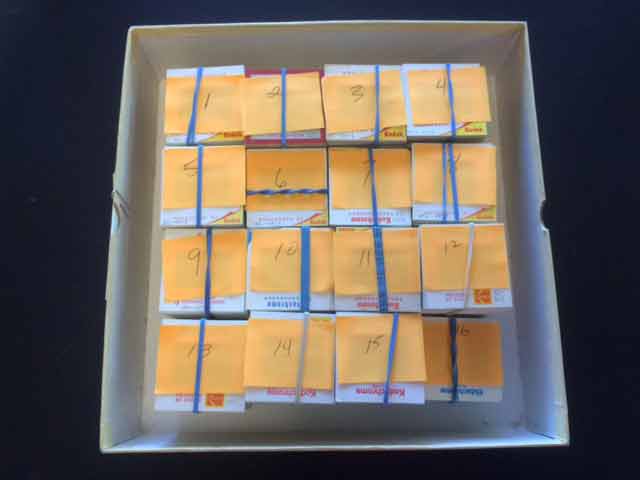 In conclusion, each stack will be labeled on its first slide. The allows us to know what stack we should begin with AND which photo within each stack we should begin with. We can also create separate folders on the flash drive based on your different batches of slides. If you would like us to do this, please place your stacks in different ziplock bags and include the batch label information in the bag (printed if possible). We will create a unique folder for each batch in the order you indicate. Please remember, a setup fee may apply if the slides are different thicknesses within the same stack.
Negative Scanning
If possible, you can provide your negatives in their original envelopes or sheets. You may also take your negatives out of their original sleeves and place them in ziplock bags for us. If you would like us to create separate folders based on the envelopes or sheets, you can provide a label in each ziplock bag (preferably neatly printed). We will create a folder for each envelope in the order you specify.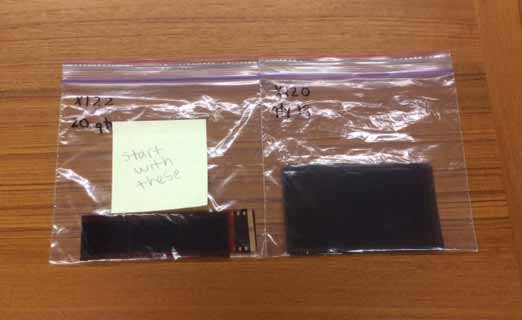 Photo Scanning
The preferred way to organize your photos is to place them in either ziplock bags, envelopes, or a box with index cards / sticky notes before each new section. We will scan them in the order you specified and create a folder for each bag or section labeled exactly as you indicated (ex: Africa 1980, Lake Tahoe 1993, Disney World 2005, etc). Please write clearly or print if possible. AV asks that you remove your photos if they are in any albums and stack them in the specific order you would like them scanned. We suggest logging where each photo came from by labeling the back of each photo with a number 2 pencil. You could label your photos as 1-1, 1-2, 1-3 and so on. This allows you to know that your photos came out of album 1. If your photos are stuck in their albums, AV can scan them from the albums and crop them into separate images. Please call us for an estimate if this is the case.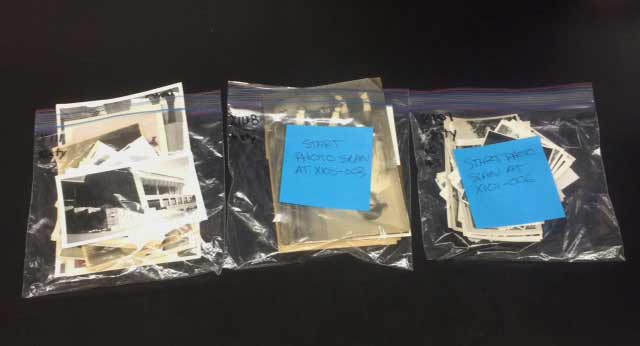 AV does not require that you organize or label your photos, although it is very beneficial if you want to arrange your pictures in a specific order. However, AV does require a small extraction fee if slides are not removed from their carousels or photos are not removed from their albums prior to receiving them. If a specific order is not provided for your photos, negatives, and slides, AV will organize and scan them by date where possible.