CONVERT VIDEO CAMCORDER & VHS TO DVD
PRESERVE & PROTECT YOUR FAMILY MEMORIES
Why Convert Video Camcorder & VHS to DVD?​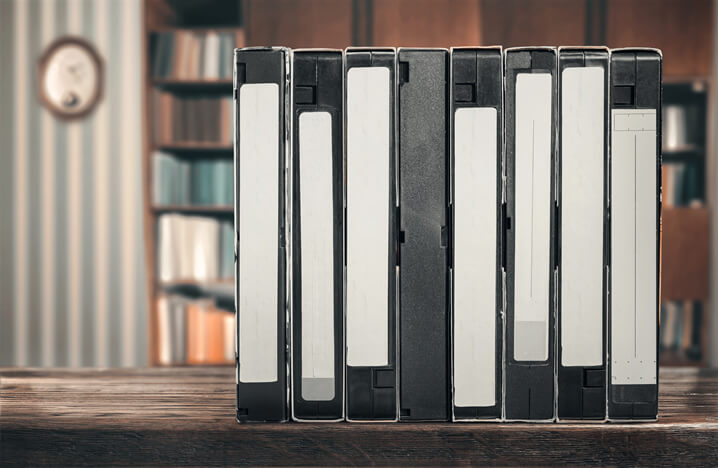 The most basic reason is that your video tapes and VHS will not last forever. In fact, after 10 years (even if they're stored in ideal conditions) they will start to degrade very quickly. The second reason is that every time you play a tape – you lose quality. This means video dropout, color loss, or even what's commonly called "Sticky Tape Syndrome". The reality is video tape technology simply doesn't stand the test of time.​
Typical formats which are transferred to DVD: VHS-C, Hi8, D8, 8mm, Video8, Betamax, DV, mini DV, DVCAM, 3/4″ Umatic SP, Betacam SP, HD, HDV, and VHS to DVD.​
You may be asking whether we also do "VCR" to DVD. The answer is yes, because your VCR is actually a VHS! If you have footage on your iPhone or iPad, we can also transfer that to DVD too. Generally, we recommend no more than 2 hours of video per disc. One hour per disk results in the very best possible quality, but 2 hours is still very good. If we stretch it, and use what's called a "lower bit rate", you'll start to lose resolution.​
The Best and Most Reliable DVD Format: DVD-R​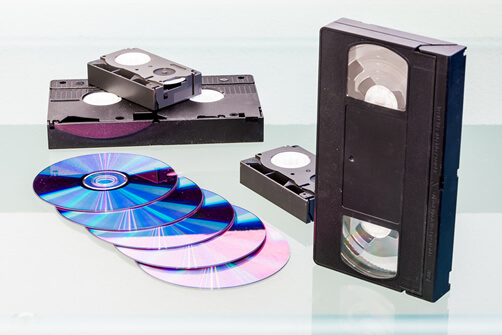 Your videos need to be recorded onto a DVD, which means using DVD recording technology. The DVD-R standard is the most compatible recordable standard available today. To get the highest quality preservation, the quality of the disks used must also be high. Taiyo Yuden, made in Japan offers the highest quality disk product available – and that's what we use. For you, it means the highest level of compatibility and reliability possible.​
There's also a little – but important detail we'd like to share with you. We print the labels directly onto the disk! So what you may ask. A DVD disk spins at a high speed, so paper labels can throw the balance of the disk off, resulting in what's called digital dropout, which you probably already experienced with paper labelled disks.​
Decisions You Need to Make About Video & Audio Quality​
Knowing that the DVD itself is the highest quality, and that the transfer technology used is also the latest technology, quality decisions come down to work done on enhancing and cleaning up your existing video and VHS recordings to actually improve them as they become DVDs. There are also decisions to be made about enhancing your viewing experience. The first and most important consideration about improving this is to improve the quality of the video – the picture quality and the quality of the audio – the sound, to become clearer, sharper, less noise etc.​..
At this point, you may want to consider using what is called an "Archival Grade" DVD, designed to have a 100 year life. Which is a good long time. It's also water and scratch resistant.​
If you're on a mission to improve the quality of the video and audio, the content is probably important enough to you to not only preserve – but enjoy it more easily. Which means menus! Yes, just like the DVDs you have probably purchased, scene selection and motion menus can be built in. Ideal if you want to find sections quickly and show off specific moments to your viewers.​
The highest level of preservation would include the actual editing of the content to remove gaps, ground-shake, TV snow, etc. This doesn't mean editing the content, just editing out these annoying visual distractions.
​

You May Want to Edit Your Videos​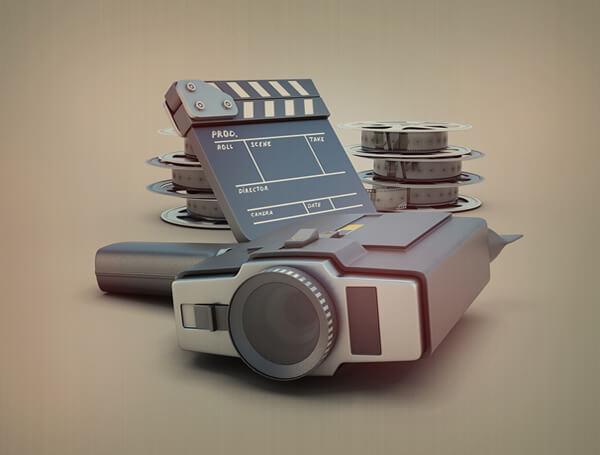 You can have editable files of any of your content. But you really can't edit DVD files. Well, theoretically, it is possible. But it's really not the way to go. There are some utilities that "rip" the content, and that itself can get tricky. But the underlying reason is that DVD files are already compressed, which is hard to edit, and the entire movie is broken up into many files, often within files. So, even if you're determined to do it, it's a hit'n miss at best, usually leaving audio and video gaps. But why go to all that trouble?​
You can, in addition to DVD copies, also get digitized, uncompressed, editable versions of the content in AVI format for Pcs or Quick Time files for MACs. This means, in addition to your DVDs, you'll get an external drive (or USB), depending on the number of hours of footage – with all your footage – ready for editing! With a large suite of software available to edit either of these formats, like iMovie, Windows Movie Maker, Adobe Premiere, etc… you'll be able to anything as soon as you plug in the digital version of your movies into your USB. ​
Professional Editing​
For some of your tapes and footage you'll be thinking that editing would be required. If you have a digitized version, you can edit them yourself. Typically, a transfer of content involves the various levels of quality improvement in both the video and audio. However, you may want to have actual editing done – like removing sections, combine content from other videos, add special effects and the like.



This can get complicated for most folks, and unless you're an AV buff, buying and learning new software may also bee daunting. At AV Video Workshop we do this every day. Which means a professional look, using professional equipment. It also means that in most cases, it can be done quite quickly. Since this is personal to your footage, you may not want to leave it up to us do decide what's important! So give us a call and we'll book an appointment to get it done for you as quickly as possible.
Recent Video to DVD Project
100 Hours of Vintage Racing VHS Tapes Converted to DVD